The crypto market gives earlier gains and turns "red" in the US hours, witnessing a massive selloff in the broader market. The global crypto market cap fell over 2.60% to $1.18 trillion, with over $182 million worth of crypto assets liquidated in the past 24 hours.
Bitcoin price fell 5% to below $28,500, with the price currently trading at 28,573. In the last 24 hours, BTC price recorded a low and high of $28,468 and $29,820, respectively.
Ethereum prices also plummeted sharply below the $2,000 level. The ETH price fell over 7% in the last 24 hours, with the price currently trading at $1,882. The 24-hour low and high are $1,870 and $2,017, respectively.
Ethereum Foundation and Ethereum creator Vitalik Buterin selling over 15,000 ETH is likely the trigger behind the recent crypto market selloff. CoinGape Media reported that the last major selloff of ETH by Ethereum Foundation and Vitalik Buterin in November 2021 caused the ETH price to fall 40% in 2 months.
Also Read: Ethereum Foundation and Vitalik Buterin Move 15K ETH; Is An ETH Crash Ahead?
Altcoins including PEPE, FLOKI, LUNC, Arbitrum, Litecoin, and Aptos witnessed a major downfall. Massive Profit-booking was recorded in PEPE and FLOKI after both rallied over 50% in the last 24 hours. Binance introduced some restrictions in the market order functions for majorly Shiba Inu (SHIB), FLOKI, and PEPE trading pairs.
Massive Liquidation In Bitcoin and Ethereum
Data from Coinglass revealed massive longs liquidation of over $182 million today, May 6. Almost 65k traders were liquidated in the last 24 hours, with the largest single liquidation order on Bitmex's ETHUSD pair worth $7.70 million.
Open interests fell nearly 5% today as traders anticipated a slight correction in the market. Meanwhile, Bitcoin Coinbase Premium has jumped higher, which indicates a difference in Coinbase Pro price (USD) and Binance price (USDT). However, Bitcoin aSOPR has climbed over 1, indicating that more investors selling at a profit.

It looks like BTC price will fall below the 50-DMA as the pattern shows weakness and high possibility of a correction. Moreover, the 20-DMA is crossing below the 50-DMA. Bitcoin price needs to reclaim $29.2k for upside momentum and hold above the $28.4k level.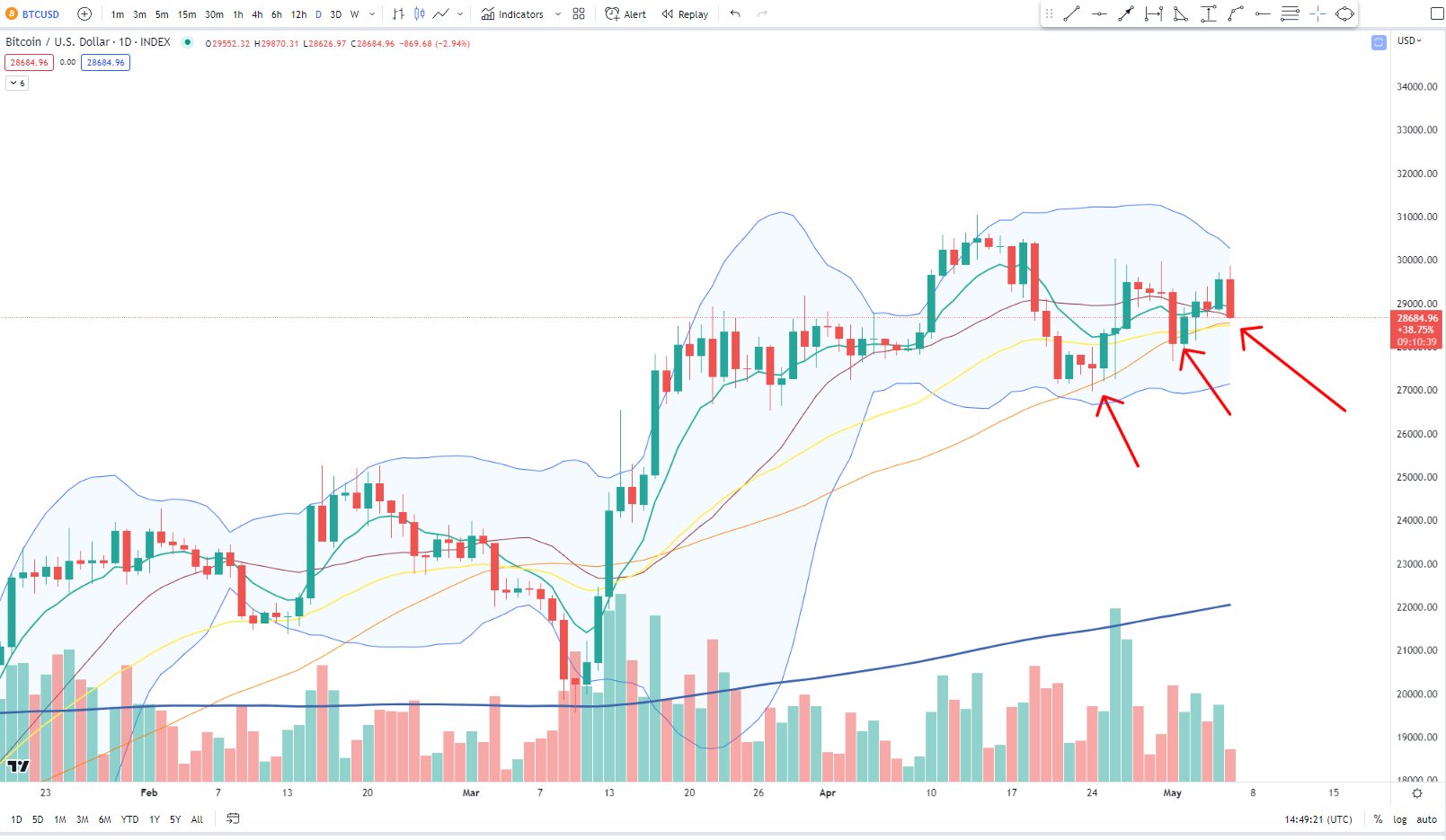 Also Read: Missed PEPE and Shiba Inu (SHIB)? Track These Whales Investing Early In Projects
The post Crypto Market Selloff: Bitcoin, Ethereum Price Falls Sharply appeared first on CoinGape.