Bitcoin price breaks below the key 50-moving average ahead of the US Federal Reserve monetary policy meeting risking a fall to $26k. The Fed is expected to deliver another 25 bps rate hike and markets await whether Fed Chair Jerome Powell is hawkish or dovish amid the banking crisis and debt ceiling crisis risking an "economic catastrophe."
Ethereum price and altcoins will follow suit, bringing an overall crypto market correction amid the looming Fed interest rate decision. Also, there's no support from whales as they are continuously selling.
Bitcoin Price To Break Further Ahead US Fed Rate Decision
As CoinGape Media reported earlier, the market will remain under selling pressure and volatile for several days from the monthly expiry on April 28 to the U.S. Federal Reserve's rate hike monetary policy decision on May 3.
In the daily timeframe, BTC price broke below the key 50-MA level at $28.2k after failing to hold above the 20-MA at $29k. BTC price fell to a 24-hour low of $27,680 after breaking the key level. The price is currently trading at $28,011, down 2% in the last 24 hours.
Bitcoin price is also showing weakness at 1-hr and 4-hr timeframes, with RSI moving near the oversold region.
Bollinger Bands and other technical indicators are also painting a bearish picture ahead of significant macro events this week. Traders need to watch the key support level at $27.2k. If the BTC price breaks below this level, the price will fall to $26k to bring a market correction.
Also Read: Popular Analyst Predicts Looming Ethereum Price and Altcoins Crash
Moreover, analyst Ali Martinez noted that the Bitcoin whale transaction count of $1 million or more has been falling since March 22. This trend has various implications for BTC price such as declined trading activity among large holders or a possible shift in market sentiment.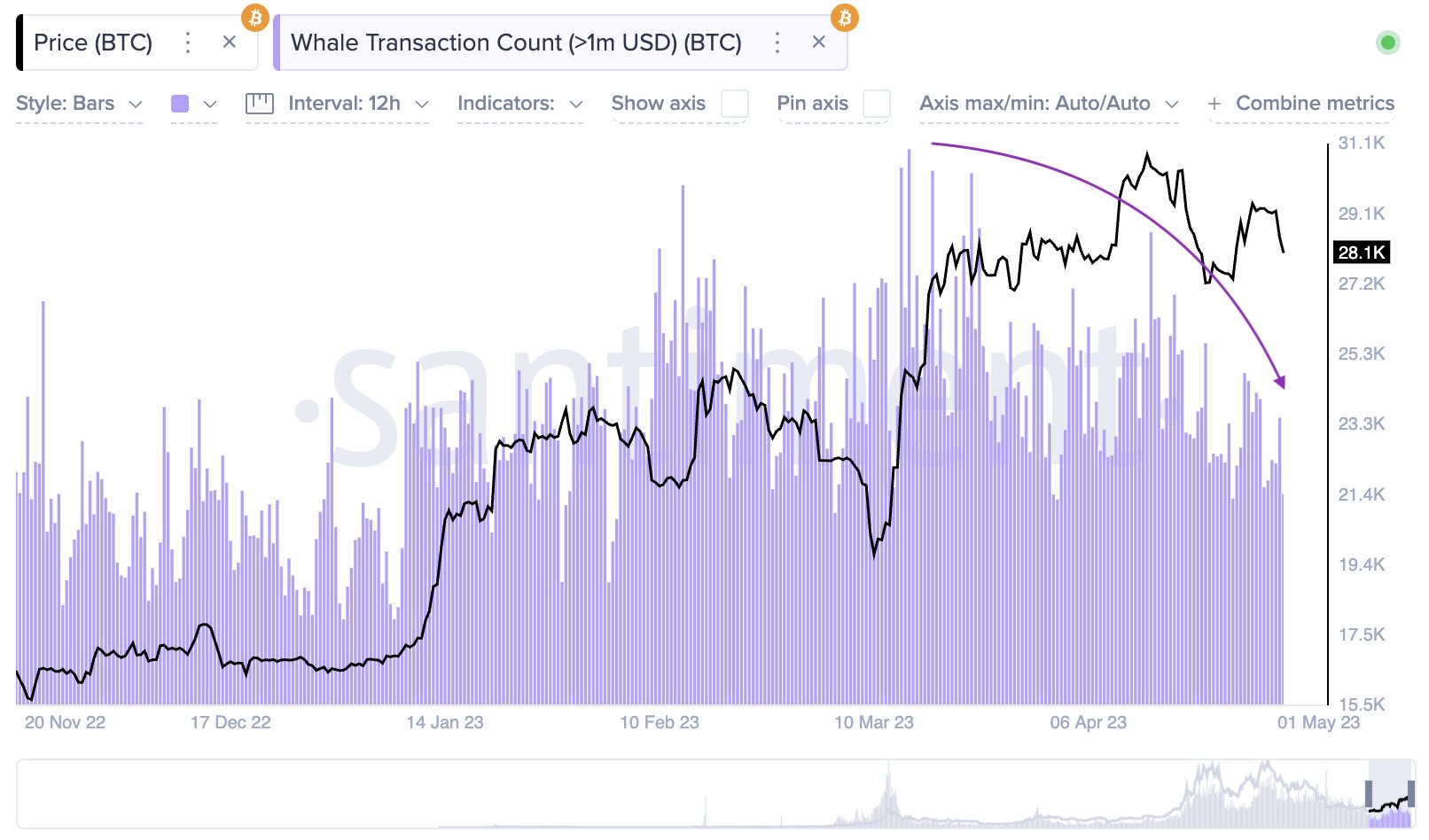 Macro Impacting BTC Price
Bitcoin trading volume continues to decline as US Dollar Index (DXY) rises above 102 on strong US data and expectations of another 25 bps rate hike by the US Fed. As per the CME data, the probability of a 25 bps rate hike has jumped to almost 95% amid the recent buyout of First Republic Bank by JPMorgan, which is the second-biggest bank failure in U.S. history.
Meanwhile, US 10-year Treasury yields rose to the 3.55% level amid high inflation and eased concerns over turmoil in the banking sector.
Also Read: Top Exchange Lists Pepe Coin After 200% Rally, Will It Flip SHIB and DOGE?
The post Bitcoin Price Breaks Key Level, Risks Falling To $26K Ahead US Fed Rate Hike? appeared first on CoinGape.